WWF
Earth Hour Campaign Design and Copywriting
In 2018 WWF UK launched a new proposition for its annual Earth Hour campaign asking people to make 'Promises for the Planet'.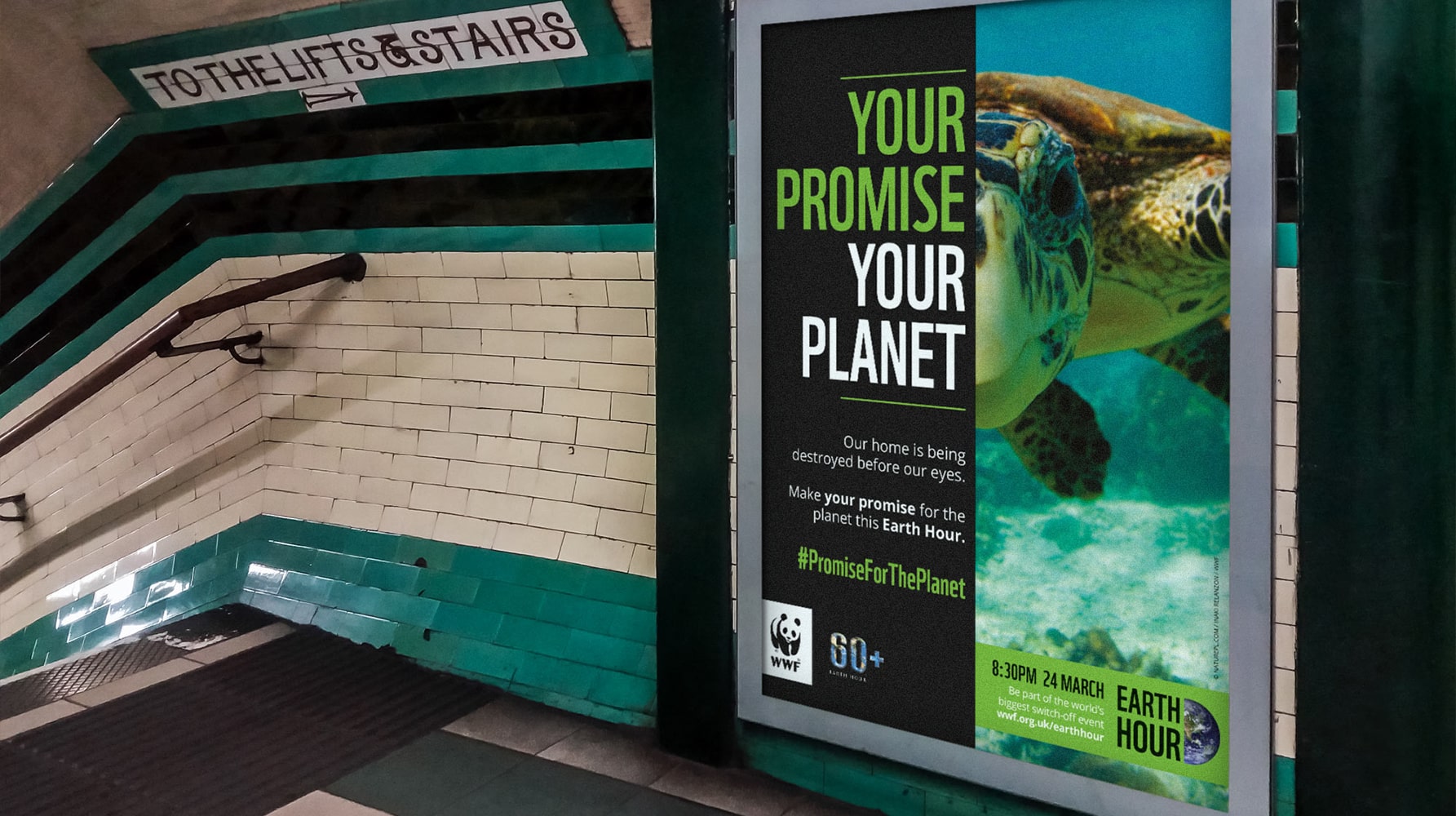 Tasked with devising copy and creative that communicated the urgency with which the public needs to alter its behaviour, riding on the back of the national interest around plastics and conservation, we created an integrated on and offline campaign that deliberately selected images of animals making direct eye contact with the audience, split-screened with the headline 'Your Promise. Your Planet. The campaign delivered record-breaking results with over 56,000 promises made.
'Promises for the Planet' formed the overarching strategy for Earth Hour 2018 and WWF UK briefed us on creating a clear, emotive narrative and look and feel that is consistent with the broader organisational one of connecting people to their planet and biodiversity loss. The campaign was primarily about reaching and engaging new supporters and starting a journey towards an ongoing relationship. Three key audiences were identified; Homely Animal Lovers, Cultured Environmentalists, and Millennials.
WWF UK's audience research found people weren't aware their individual changes could make a difference to the planet. We harnessed this finding and created a rallying call with the copy to communicate how, by making a promise, you were joining a global movement. We wanted the species imagery instantly engage audiences and selected photos of animals making direct eye contact with the audience – this made the headline and call to action seem as if it were coming directly from the animal shown.
The results
Over 56,000 promises made
Record breaking number of landmarks switched off – over 400 (target 300)
100m reach on #EarthHourUK, #EarthHour trended all day
Reached new Millennial audience through influencers campaign, gaining reach of 18m+ via Instagram, Twitter & YouTube
7322 schools & 4936 youth groups registered to take part exceeding targets
Web traffic up 45% with a 66% rise in conversion rate when comparing promises with sign ups
36 Memberships made on the day, compared to 6 in 2017
We worked with Ave on a high profile campaign that had sudden changes in creative direction, huge numbers of deliverables and deadlines that were absolutely brutal. They managed to float above all of the turmoil with a smile on their faces and create a campaign that smashed all of our targets and was one of the most effective creatives we've had. I would work with them again in a heartbeat.
Jacqueline Dragon
Brand and Design Specialist / WWF
Have a project
you want to discuss?
If you're interested in finding out more about how we could work together, send us a message and we'll get back to you.