Cancer Research UK
Emeralds and Ivy Event Identity Design
The Emeralds & Ivy Ball is Cancer Research's flagship fundraising event, produced in association with Ronan Keating's Marie Keating Foundation.
We were approached transform the look and feel of the 2016 event, to entice people back and show how exciting the event still was after a very successful 10th anniversary year in 2015, and have worked with CRUK in each subsequent year on the reinvention of the visual concept for the event theme.
For the theme of 'vintage carnival' in 2016, we worked the design concept up on the idea of a masquerade, a traditional element of a carnival, whereby what is presented on the outside is very different to the inside. The collateral we designed on the outside was a classic blue with gold foil emblem, however, when you opened it up you witnessed an explosion of montaged components that sing vibrantly.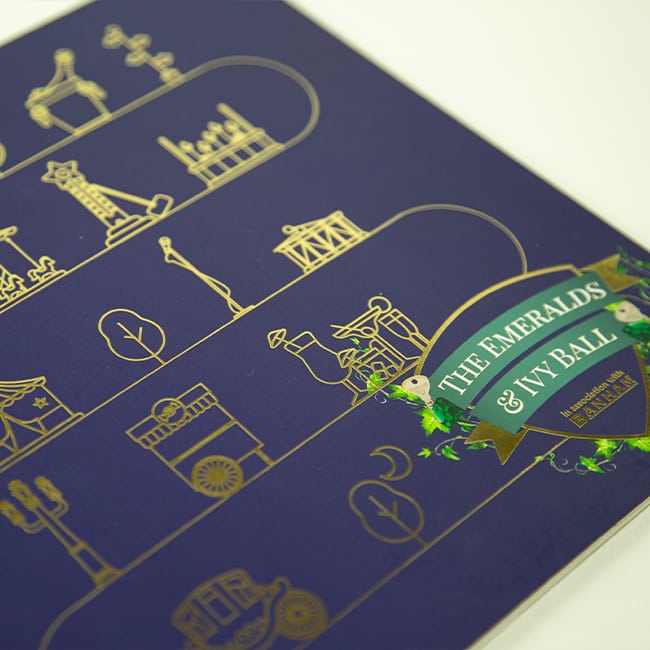 The montage was a bespoke illustration wallpaper we created from every element that was going to be present on the night, from games and champagne to performers. For the digital assets the montage components were animated to enhance the experience.
The 2018 event theme was the Nutcracker with the idea of subtly hinting at the theme, but not to give everything away until the event night. We created a complex, delicate laser cut design featuring characters and iconic elements from the story, which translated into print on other items.
Our most recent Emeralds & Ivy identity, for the 2019 event, was based on a fairytale theme. The designs were stripped back to simple, but lavish, delicate, and floral. Gold elements complemented by the signature dark blue, and an elegant script font was chosen, giving a hint of opulence but leaving the impact of the magical fairytale world for visitors on the night.
Cancer Research UK worked with Ave on our flagship fundraising gala ball. From start to finish the level of service was exceptional. They listened to our needs taking care to really understand the brand and our audience. They created some of the most innovative pieces of work we have ever presented to our guests and were able to refresh the look and feel of a 10 year event with such ease. It was a pleasure to work with them and Cancer Research UK can't wait to work with them again.
Isabella Rigby
High Value Supporter Partnerships
Have a project
you want to discuss?
If you're interested in finding out more about how we could work together, send us a message and we'll get back to you.